27 Powerful Content Marketing Examples for Any Industry
1. Canva's Design Challenge Campaign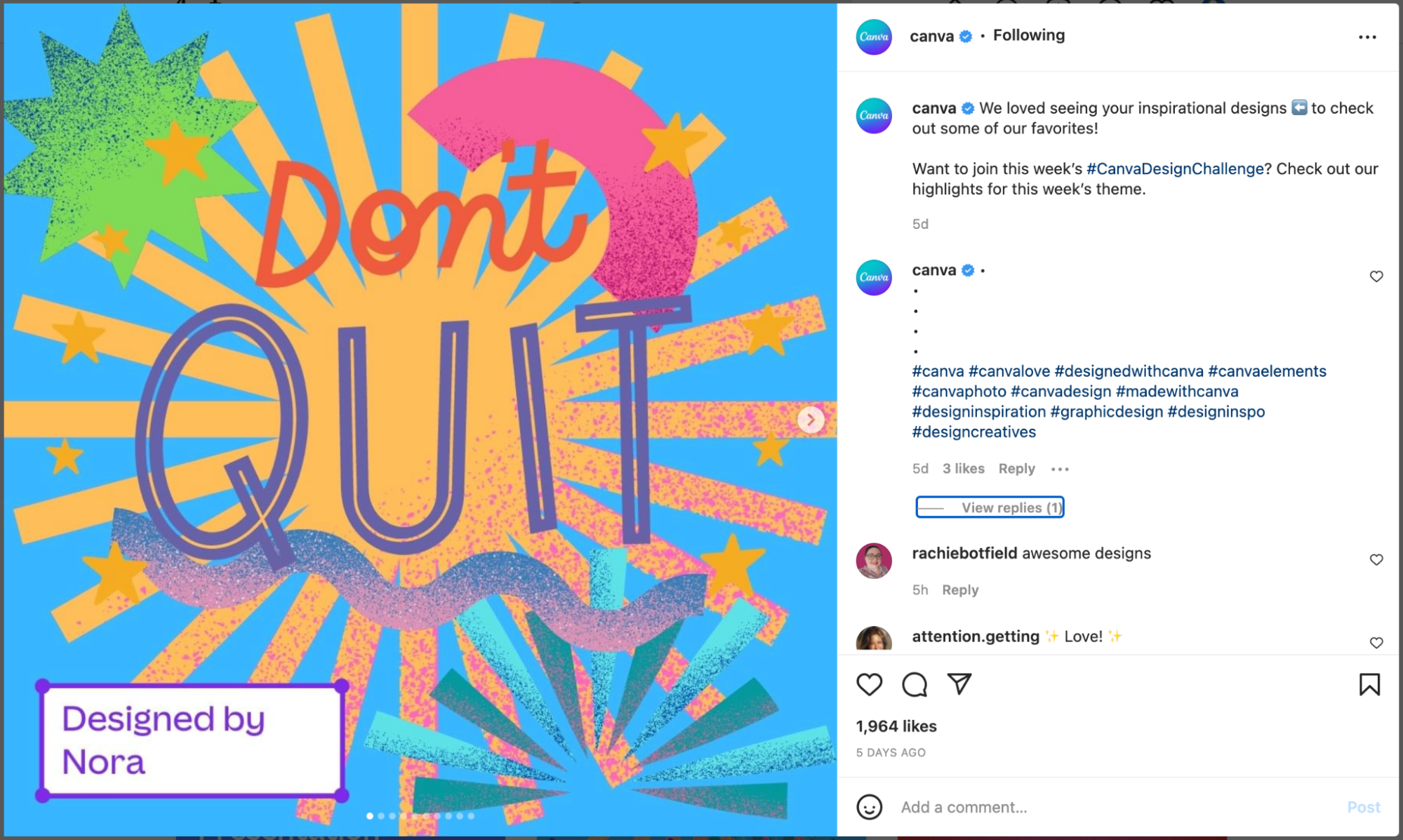 Canva's well-known graphic design platform makes content creation easier for businesses, influencers, and content creators everywhere. In 2022, it launched an ongoing weekly contest for users in turn for some sweet prizes, like a paid annual membership to Canva.
Why We Like It:
It's a perfect example of cultivating user-generated content (UGC). Since launching, Canva has amassed 36,000 posts under the hashtag #CanvaDesignChallenge. Now, its team can choose which content to share on Instagram by barely lifting a finger. Moreover, Canva—a leader in creativity—gives its users a chance to be the experts.
Our Top Takeaway:
2. MailChimp's All in a Day's Work Series
MailChimp is a popular, easy-to-use Customer Relationship Management (CRM) for small and medium-sized businesses. It excels at helping entrepreneurs and small businesses build subscriber lists and nurture new leads.
But that doesn't stop MailChimp from creating its own interesting and relevant content. In January 2021, it launched a mini-series called All in a Day's Work, which speaks to the triumphs and challenges of smaller businesses.
Why We Like It:
Our Top Takeaway:
Interactive Content Marketing Examples
3. Burger King's VMA Immersive Sweepstakes
At the end of 2020, Burger King's mascot teamed up with rapper Lil Yachty to create videos that introduced sweepstakes for a 2021 VMA awards immersive experience. In a series of commercials, Lil Yachty and The King prepare for the performance of Lil Yachty's "Top Down," while also encouraging viewers to download their app.
The commercials provide a unique VMA Augmented Reality (AR) experience for loyal Burger King customers while offering them a slew of prizes and discounts if they interacted with the app. Perhaps two of their biggest incentives were winning a year's worth of Whoppers or tickets to the 2021 VMA Awards.
Why We Like It:
Lil Yachty and The King's bond was relatable to people during the pandemic. At the same time, they subtly mention their product—a QR code to download the Burger King App—by disguising it as artwork on the wall or designs on the back of a jacket. Viewers could also immerse themselves in the VMAs by scanning the QR code. From there, they could take a front seat, AR experience style, to watch the VMAs.
Our Top Takeaway:
The immersive experience allowed viewers to escape pandemic isolation, even if for a moment. Burger King took advantage of the reliance on food delivery and ordering apps to help boost download rates without shoving the ad in the customer's face.
4. Virtual Craft Beer Tasting by Ballast Point Brewing Company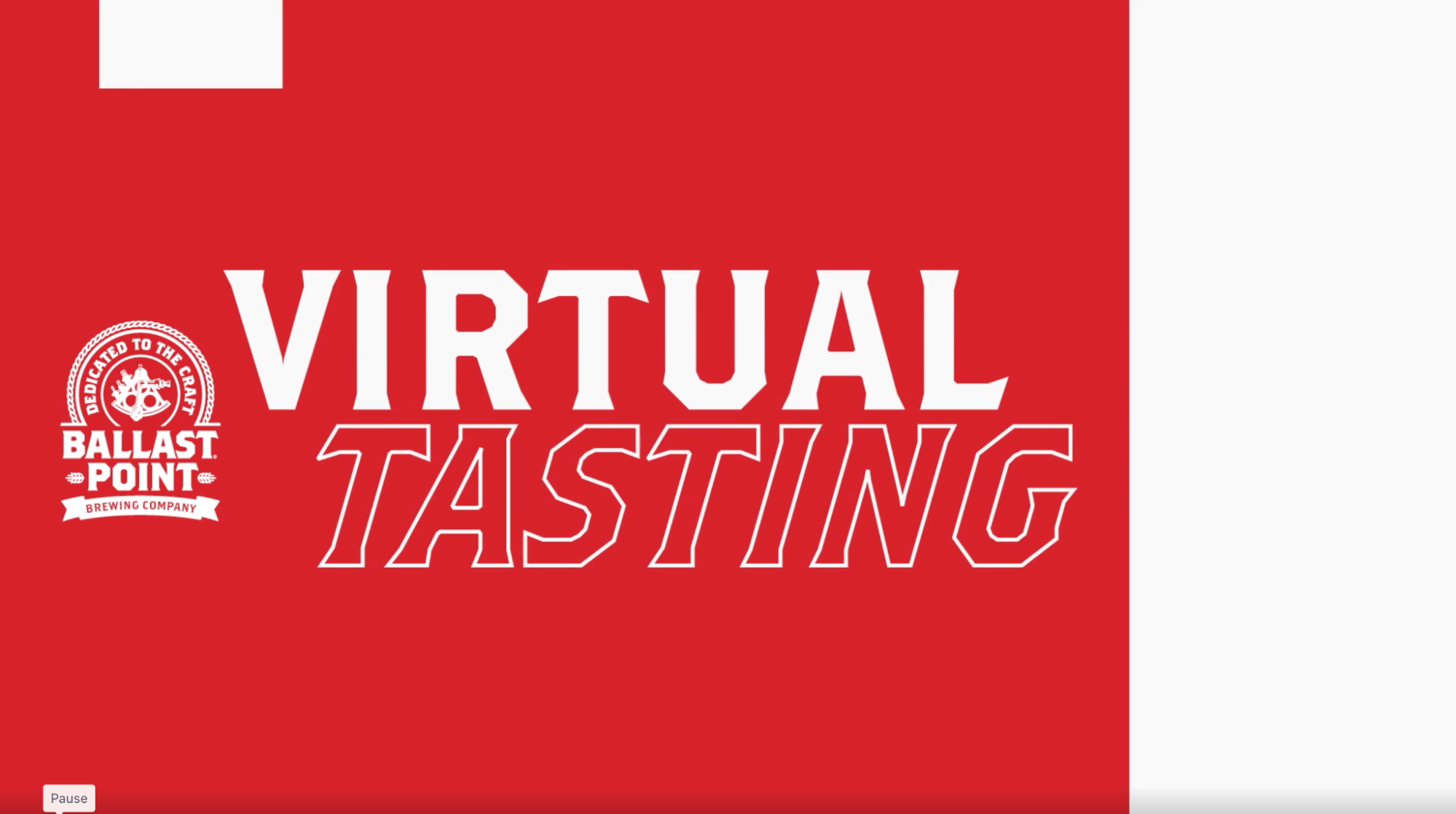 Lovers of craft beer festivals but who couldn't attend one during the pandemic, not to worry. Their ongoing virtual craft beer tastings helped the craft beer community come together with hearty laughter and drink.
Even with beer festivals operating again, Ballast Point Brewing Company continues to host virtual craft beer tastings for enthusiasts across the United States. Guests experienced a virtual tasting and brewery tour, then played trivia—all without leaving their couch. Attendees also had the luxury of ordering items they would typically find at beer fests shipped right to their door.
Why We Like It:
For breweries that thrive on human interaction and events to promote their product, the pandemic took away a crucial part of their marketing strategy and revenue. However, Ballast Point kept the craft beer community together by creating a virtual tasting, and consumers felt like they weren't missing out on their favorite beer fests.
Our Top Takeaway:
In the wake of the pandemic, businesses had to adapt digitally to stay afloat. And while shifting from brick and mortar to full-on digital was a challenge, businesses could try something new and find creative ways to reach people.
5. Design Personality by Airbnb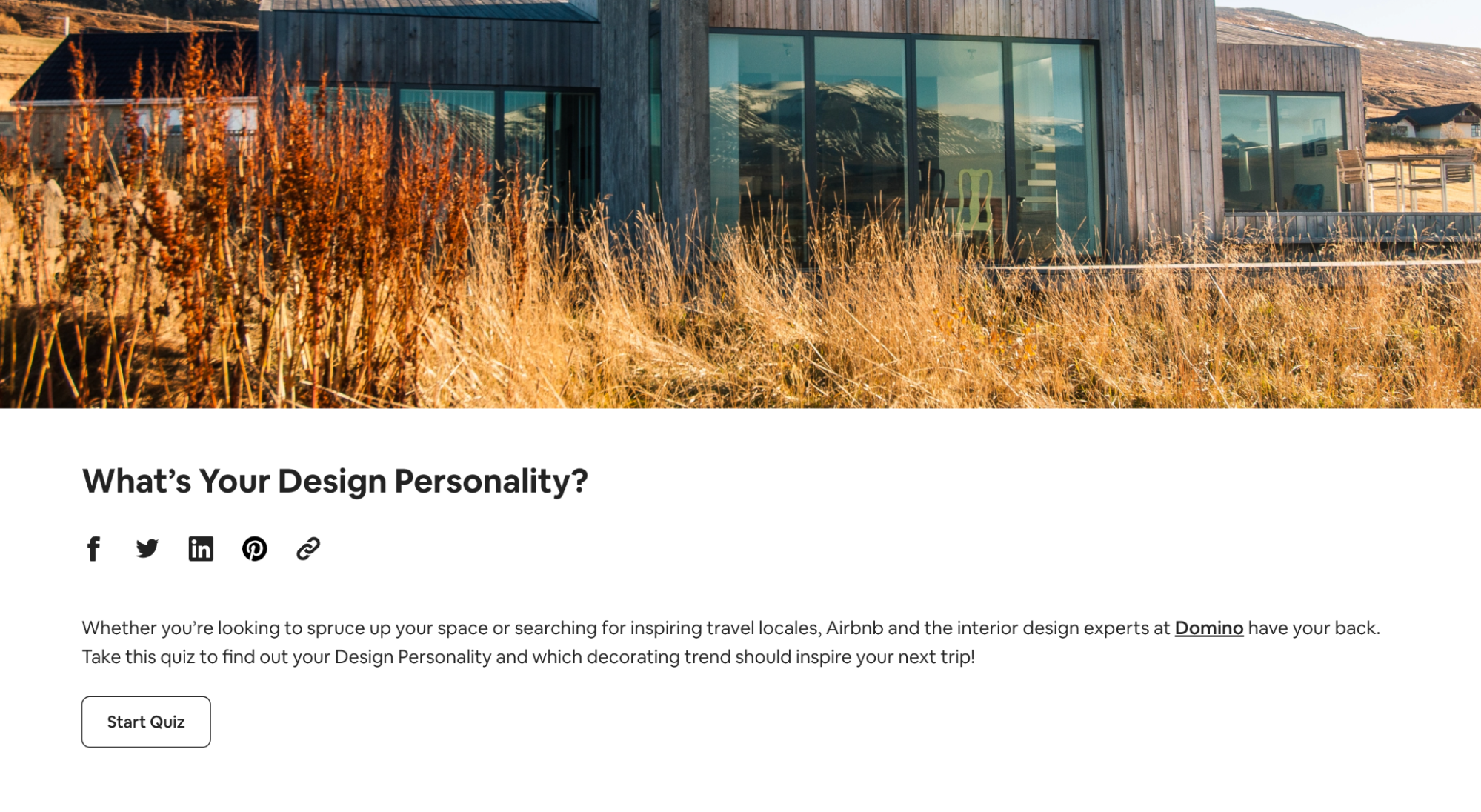 What is content marketing?
Content marketing involves creating useful content for the audience as a way of educating, entertaining, or offering other value can be considered content marketing. It varies somewhat from direct marketing, where the brand pushes a product or service and asks the audience to buy. Content marketing seeks to serve first, then position the brand organically.
Content marketing can take many forms, including entertaining videos, educational blogs, ebooks, case studies, white papers, social media posts, and even apps and video games. If the customer seeks it out not primarily as a shopping mechanism but to consume and enjoy the content provided, it's likely a case of excellent content marketing.
Ask anyone in marketing or branded content strategy what examples really stands out to them, and each will likely have their own answer. That's because we are all touched by brand messaging in our lives every day and depending on where we are personally, different messages reach us differently. Each brand has its own audience and target demographic and it really needs to create its own branded content campaign from scratch.
Uniqlo
If you have ever lived in a major city, you have probably seen a Uniqlo advertisement or shopping bag, but the company wanted to help customers see Uniqlo as a technology focused company, not just a fashion brand. They wanted to build on a statement made by UNIQLO's President and CEO Tadashi Yanai that said, "We [Uniqlo] are not a fashion company. We are a technology company."
The best way to do this? An effective digital marketing campaign. Uniqlo created a world-first "fast-moving" image campaign and activated it in 100 locations and online. The campaign utilizes fast moving images to deliver a unique product code which is indecipherable to the naked eye.
Shoppers were then asked to upload the five digit code to the campaign website to redeem a sample from the HEATTECH clothing range. Once on the site, the viewers were directed through a series of informational screens that described in detail the technology behind Uniqlo products before displaying a winning page.
This experience was shareable on social and encouraged friends to uncover their own unique code through similar YouTube and Facebook videos. The results were terrific. Online videos were viewed 1.3 million times, and over 25,000 people signed up to receive the UNIQLO newsletters. In total, the campaign reached over four million people, resulting in 35,000 new customers.
The Lesson: Digital marketing can be a great way to creatively engage with your customers and teach them about who you are and what your product does. By taking control of the conversation with your customer, you can create your own brand story that you want to resonate with the target customer. You don't need to go to the lengths that Uniqlo did to interact with your customers, but you do need to take control of the conversation.
Other Social Media Superstars
1. Doctor Who
This long-running BBC show attracts millions weekly to follow the adventures of the Doctor and his companions. When it comes to social media, the Time Lord eclipses all other television brands through the integration of a Tumblr blog, Twitter feed, Instagram, and a strong online presence. It's a match made in heaven—or perhaps near Gallifrey—and a winner in our book when it comes to promoting a brand via integrated social media.
2. The Shelter Pet Project
The Shelter Pet Project uses Facebook to help place millions of homeless animals in danger of being destroyed simply for lack of a home. The project is a collaboration between the Humane Society of the United States and the Ad Council. Their goal? Bring the number of pets euthanized in animal shelters to zero. Nothing less than zero will do.
And they're succeeding, one furry little face at a time, through a campaign called "Local Legends" that highlights animals at local shelters waiting for adoption. They partnered with Facebook's Creative Shop to build a memorable campaign that generated strong awareness of the plight of shelter pets. The campaign incorporated two videos and sponsored Facebook ads based on Facebook suggestions for maximum impact.
3. Porsche: The 911 Campaign
The Porsche 911 has been the dream car of almost every American boy for over 50 years and has had a strong hold on the hearts of many car enthusiasts for multiple generations, which is why Porsche's mobile strategy was so genius. In an age where most people utilize "wallpaper" on their homescreen more than their walls, the company aimed to reintroduce the 911 to a new, mobile-focused generation.
Porsche created six Facebook Canvas ads, a new ad unit optimized for mobile, that acted as an immersive deep-dive into the specifics of six different models. The strategy was an immediate hit, ultimately racking up 15MM impressions and 2MM video views and landing the company as a finalist in the 2017 Shorty Awards.
4. Truth #Catmageddon
When was the last time you thought about smoking or its consequences? It's probably been a while. That is the challenge Truth, the non-profit focused on raising awareness of the negative consequences of smoking, is constantly dealing with.
In an effort to attract attention to the issue, the company launched a campaign titled #Catmegeddon. According to a spokesperson at the company, the purpose was to connect smoking to something their audience cares about as much as themselves: their pets.
65 percent of U.S. households own a pet, which equates to 79.7 million homes. Their objective was to make a cultural impact and change teens' attitudes about smoking by broadcasting the fact that cats whose owners smoke are twice as likely to get cancer.
Their strategy included paid television ads but mainly focused on "cat-sourcing" original, digital content of famous cats and cat profiles to share awareness of the #catmageddon campaign. Throughout the course of the campaign, there were 18 digital integrations on channels ranging from Vevo and Bustle to IGN and Pandora.
The campaign was the most successful campaign in Truth's history in terms of cultural impact and changing teens attitudes towards smoking, according to a company write-up for the Shorty Awards. It's safe to say that a well-executed digital strategy that includes cat videos is bound to turn heads.
5. Sharknado 3
Okay, so we admit it: We're fans of the SyFy channel's cheesy, laugh-at-the-bad-special-effects Sharknado series. We're also fans of great Twitter use, and Sharknado 3: Oh Hell No! deserves the best-in-show award for Twitter interaction with their audience.
The campaign's goal was to make sure people were talking about the third installment in the series, and they achieved that goal big time. They create custom content that "sharkified" the event, sharing it throughout the Twitter properties linked by the network. Influencers on Twitter and Vine were also part of the campaign to spread the excitement.
A "Twitter War Room" deployed during the premier of the movie also hyped the excitement. Hashtags #Aprillives and #Aprildies let fans weigh in on the fate of the main character. The campaign generated more Twitter activity than when Hillary Clinton first announced her bid for the presidency.
6. Taco Bell
Taco Bell's iconic brand already dominates social media. But their mobile ordering program boosts brand recognition and helps hungry taco junkies nationwide get their fix, fast. The new app enables fast ordering right from a mobile device, and the company's launch resulted in 300,000 app downloads the very first day—a sure sign of taco fever and a winning mobile campaign!
Sources:
https://www.semrush.com/blog/content-marketing-examples/
https://www.clearvoice.com/blog/5-examples-of-brands-who-do-content-marketing-right/
https://www.convinceandconvert.com/digital-marketing/killing-it-with-digital-marketing-campaigns/